This visually stunning piece is performed by 21 deaf girls and boys from China's Disabled Peoples Performing Art Troupe; it's called the Thousand-hand Bodhisattva Dance.

And a link to the wikipedia entry for Bodhisattva itself.


---

A thoughtfully done, very short, video from the Sixth Annual Media That Matters film festival:



Permission
Directed by Vance Malone
Produced by Public Interest




---

This picture makes me laugh, and I don't even really know what it means, if anything. Maybe it was a Valentine's Day picture.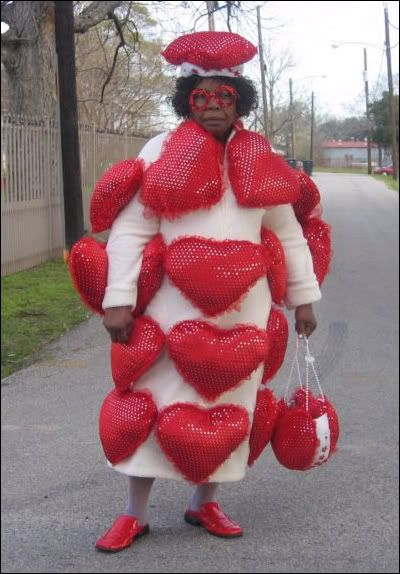 ---

Tonight I saw The Da Vinci Code with Steve. I had been on the fence about seeing it, but with an invite, thought, "What the hell."

Movie summary: When respected American religious symbology expert Dr. Robert Langdon (Hanks) is summoned to the Louvre by the French version of the FBI, led by Captain Bezu Fache (Reno), he soon discovers that he is the#1 suspect for the murder of a historian he had been scheduled to meet with.. Assisted by a French cryptographer and government agent named Sophie (Tautou), Langdon is challenged to decipher a chain of cryptic codes and puzzles, all the while trying to stay ahead of Fache's lawmen in a chase through the Louvre, and out into the Parisian cityscape, and finally across the channel to England. Can Langdon and Sophie decipher the nature of a secret dating back to Leonardo Da Vinci and earlier before those responsible for the historian's murder add them to their hit list?

Though I've heard that most people who have read the book didn't like the movie, and those that haven't read it thought it was okay, I didn't hate the movie.

What I did spend a lot of time doing, though, was thinking things like:
I wonder if people who haven't read the book really understood that last scene, and
I wonder why they decided to do that scene differently than how it was done in the book, and
I wonder why they completely left out what happened in the book at this point, and
I wonder why they changed the ending like that.
Overall, however, I thought it was fairly well done, if not a tad too long. It was certainly less tedious than the book.


---

I checked in with Robert by phone on the way to Scareyoke tonight.

Not one of whom I consider my "friends" was out tonight. There were several people I "know" out, but no one that I know well enough to talk with, which was fine by me -- it's fun just to people-watch sometimes.

Richard, the bartender, came over and chatted with me a couple of times "between customers." He's just adorable, and sweet, too.

Overall attendance in the bar was light tonight, with the highlights being: 1) a cute, straight-redneck-looking guy, who had a beautiful voice, and sang Alan Jackson's Remember When, and 2) Mary K. Mart in the house as "Randy."



I've only ever seen Mary K. Mart out of drag one other time, and it was the same scenario this time: I just couldn't stop staring at him as a man. It's not that he's beautiful or anything, it's just that I keep looking to see the smile, or a facial feature, that says, "Oh yeah, that's her."

At one point, he walked by me, and I asked him if Brigner had given him my 10-week "Top 10 Drag Name" PowerPoint slide show to check out, and he said yes, and that he had done the first week's one last Thursday.

"Did it go over well?" I asked.

"Fairly well, yes," he replied.

Cool.