~Thursday~
We were up early, took our time packing, and eventually headed out to start today's drive toward Michigan's
Upper Peninsula
.
We'd planned to stop for breakfast shortly after getting out of Battle Creek, but we ended up not stopping until close to noon for a combination bathroom break, gas fill-up, and lunch. We both tried McDonald's new "Artisan Chicken Sandwich."
Let's just say it tasted "healthy," and leave it at that.
We stopped one more time at a rest area that had the most diverse vending machine items, but it was not welcoming to pets at all.
John, Frances, and Vincent banished to the skimpy
"Pet Run" area of the rest stop
There were too many signs at this rest stop with the word "pet" preceded by the word "no" for our taste.
No pets in the picnic area.
No pets near the vending area.
---
We arrived in Mackinaw City at about 4:00, and found out that even though our hotel reservation was for the
EconoLodge Bayview
hotel (which was adorable, with individual log-cabin-like rooms), there was a sign on the door that said to check in across the street at the
Hamilton Inn Select Beachfront
hotel.
It turned out that the EconoLodge was supposed to open back up (for "the season," I guess) yesterday, but the opening was behind schedule, and we were given a room (for the same price) at the Hamilton Inn.
---
We unloaded the car and Bob graciously went to get us some ice.
Frances and Vincent worshiping the door Bob walked through to go get some ice
And then he set up the bar for us.
Okay, for me.
---
After settling in, we walked around the cute little city, looking at the shops restaurants and the pier area nearby.
It was a cool day, so much so that little jackets were in order as we walked around sightseeing.
Bob, Frances, and Vincent at the Mackinaw City Pier
John and Vincent at the Mackinaw City Pier
Some history of Michigan car ferries
United States Coast Guard Cutter Mackinaw in the distance
United States Coast Guard Cutter Mackinaw close-up
We ordered take-out from a neat Italian place called
Nonna Lisa
.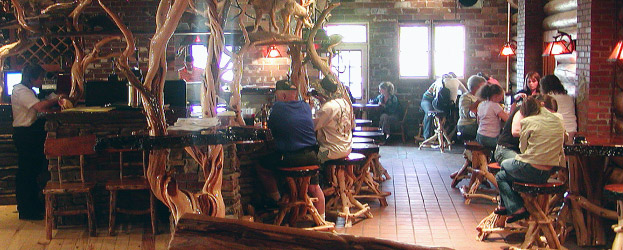 I went in to order it and wait for it, while Bob walked around with Frances and Vincent, and it took
at least
20 minutes, if not 30. We ordered:
Antipasto Plate
Sun-dried and marinated tomatoes, marinated artichoke hearts, marinated eggplant, Kalamata olives, roasted garlic bulb, fresh mozzarella, sliced hard salami and pepperoni. Served with toasted crustini.
Stromboli
Salami, pepperoni, and mozzarella enclosed in a golden pizza shell. Served with marinara on the side.
---
We had our dinner back in the room, and we watched most of the 1970 blockbuster movie
Airport
.
~Wednesday~
We were up at about 7:00, and Bob made coffee for us. We made our beds and straightened out our room, before leaving at a little before 10:00 for another house showing.
Since there was no outdoor seating at the McDonald's we stopped at, we sat in the car with Frances and Vincent and Bob and I each enjoyed a Sausage McMuffin with Egg, and shared a coffee and some apple juice.
Frances and Vincent may have each had a taste of a sausage patty, too.
---
We headed out to Bob's sister Mary's place to pick her up to go with us to visit their brother Billy. We visited for a few minutes, getting a tour of her house (which I loved), and met BooBoo and Binky, who apparently found me harmless.
Since their mom's death about 5 years ago, Mary has been slowly going through her stuff and decided that she was ready to let go of some things. One of the things she had for Bob was that purse you can see on his lap in the above picture.
And one of the things in the purse was a little jewelry box that contained her wedding band and a charm bracelet:
The bracelet, which Ruth wore all the time, has a charm for each of the 15 McVeigh children. There are two extra charms on it, too—an Eagle Scout charm and a #1 Mom charm.
The five of us (me, Mary, Bob, Frances, and Vincent) drove out to brother Billy's in Vicksburg, MI for a nice afternoon visit, and it was great to meet yet another McVeigh sibling.
Siblings Billy, Mary, and Bob
I enjoyed the many family stories shared among the three McVeighs while we were there. When it was all said and done, I was left with an impression of Billy as a
swashbuckler
—off on a new entrepreneurial adventure, rescuing damsels (or squires) in distress, and combining courage, resourcefulness, and a distinctive sense of honor and justice getting along in the world.
Joining us on his scooter, we took a walk around Billy's neighborhood before we left.
Billy, Mary, and Bob in the park near Billy's house
Bob, John, Frances, and Vincent in the park by Billy's house
---
We dropped off Mary at her house at about 3:00, and then headed back to Barbara and Charley's, where we had a late lunch of our leftover Chinese from our visit to Joe and Robin on Monday. We ate out on the porch, and Bobby went through Ruth's purse.
Most of Bob's family calls him "Bobby," and I started to, too, at one point.
We spent a little time after dinner on the porch talking with Barbara when she got home from work, and then, "Aunt Barbara" generously took Frances and Vincent for a walk to the lake with Chucky after Bob and I headed out to meet his sister Mary for line-dancing.
---
Mary dances at
Backroads Saloon
in Marshall, MI, just a stone's throw from Battle Creek. I've seen several of her Facebook posts from this place, so it was neat to actually be there dancing in the same place.
Mary's husband, Barry, and Mary Lou and her boyfriend Micheal, were also there. Here's some of our smooth moves that I know you wouldn't want to miss witnessing:
John and Mary Lou "at the ready"
Mary Lou working it out
John in the spotlight
Mary boot scootin'
It's always a challenge line-dancing "on the road," as there are
so
many line dances out there, and even if you do know one, there's always a chance that once you've excitedly run out to the dance floor to do one you know, the "locals" do one little step differently, which can be a disaster—at least for me.
It's so hard to "unlearn" something like that, and I find myself trying to nonchalantly slink off the floor, which usually fools absolutely no one.
As it turned out, the only dance they did that I knew was one that we call "Bumpers." I did learn a couple of other—rather difficult—dances, but I didn't do them the second time they played them later in the evening, since I didn't think I'd remember the steps from an hour earlier, never mind when I got back to Raleigh. :-)
It was a good time, though.
It's always interesting to see and hear what dances and songs are played when you dance while traveling.
It was also biker night, and Barry and Mary road together on his bike, and he spent some time outside with the other bikders, as well as some time inside talking with Bob.
---
Bob and I stopped at Burger King on the way home, since we hadn't had dinner. We each had an original chicken sandwich, and we shared an order of fries.
When we got home, we chatted for a little while on the porch with Barbara, and that's when she told us she had taken Frances and Vincent (and Chucky) for a walk down to "the beach" at Goguac Lake, by their house.
Barbara also had some questions about pictures she had seen going through Bob's purse, which cracked us up.
~Tuesday~
We had breakfast at Barbara and Charley's house, where Bob scrambled us some eggs, which we had with toast we made from the remainder of the loaf of bread we'd taken with us in the car, and which had served us so well for peanut butter and jelly sandwiches on our trip up.
Whew. That was a long, albeit well-punctuated, sentence. You can take a breath now.
Frances and Vincent adoring the kitchen door Bob walked through
Out the kitchen window, Bob asked me what I noticed about these squirrels in the yard:
I replied that they looked black, and that's how I learned about
black squirrels
—"common in the Midwestern United States, eastern Canada, and parts of the Northeastern United States and the United Kingdom," according to Wikipedia.
Bob told me the W. K. Kellogg-related urban legend about the black squirrel, which Wikipedia relates this way:
Black squirrels are abundant in Battle Creek, Michigan, and, according to legend, were first introduced there by Will Keith Kellogg, founder of the Kellogg Company, in an effort to destroy the local population of red squirrels. The story continues that this same population of squirrels was further introduced to the campus of Michigan State University by John Harvey Kellogg for the same purpose.

This story was corrected by Wilbur C. "Joe" Johnson, the late chief wildlife biologist at MSU's Kellogg Biological Station near Battle Creek which includes W.K. Kellogg's former 32-acre estate at Gull Lake. Johnson, who worked at KBS for 48 years, credited Dr. John Harvey Kellogg for introducing the black squirrel to the Kellogg estate during the 1930s. Johnson said he himself trapped 20 black squirrels at Gull Lake during the early 1960s at the specific request of former MSU president John A. Hannah and released them on the East Lansing campus.
---
I'm friends with Bob's sister, Mary, on Facebook, but we've never met, and I wanted to try and surprise her at work. So we drove to Barnes & Noble, and I went inside to try and do that.
I couldn't find her, but there was one lady whom I thought might
possibly
be her, although didn't really think so, but then thought,
"Sometimes people don't look like their pictures,"
so I clandestinely snapped a picture of her with my phone and texted it out to Bob, who was sitting in the car with Frances and Vincent.
It wasn't her, so I ended up asking if she was working, and after one worker said, "I can't give out that information," another one told me she works nights now—and that she was coming in at 4:00 today.
---
We went to Wattles Road to see the old McVeigh homestead—at least that's how
I
think of it.
The McVeigh house on Wattles Road
Like a museum docent, Bob gave the room-by-room history of the big house, and which windows opened into which sibling's rooms at various times during their residence there.
The McVeigh house on Wattles Road close up
---
Last year, Bob lent me a book called
Murder in Battle Creek: The Mysterious Death of Daisy Zick
, which I thoroughly enjoyed.
In 1963, Daisy Zick was stabbed 27 times at her home in Battle Creek. It's an unsolved case that locals are still talking about today. It's also the subject of Murder in Battle Creek: The Mysterious Death of Daisy Zick by Blaine Pardoe.
This murder happened virtually right around the corner from their Wattles Road house, so we drove over to see the street on—and the house in—which it happened.
Cool.
---
From there, we set out for
Cornwell's Turkeyville
, from which Bob had sent me a postcard the last time he was in Michigan.
We had lunch there, both enjoying their signature
Buttered Turkey: Pieces of white and dark meat served on a homemade bun with butter and mayonnaise, for $4.39.
But as it fortuitously turned out, it was "Turkey Tuesday," and we got both sandwiches for $5.17 including tax.
We gobbled that up—the price and the sandwich.
---
Arriving back in Battle Creek, we went by Kmart so that I could try and surprise another of Bob's sisters, Kathy this time, whom I'm also friends with on Facebook.
I went in to find her, and after scouring the store with no luck, I asked someone if she was working. They paged her and found out she was at lunch, and they took me over to the door from which she'd come out.
She came out from the back, and was staring at me as she slowly walked toward me.
"Do you know who I am?" I asked.
"Yes, I've seen you on Facebook," she replied, smiling.
We chatted for just a couple of minutes before I went out to the car and sent Bob in to visit with her before her break ended.
---
While there, we got a call from Barbara telling us there was going to be a showing of the house at 4:00. We had enough time to stop back by the house, which we did, and then left at about 3:45.
We went back to Barnes & Noble to see Mary, since it would be 4:00 by the time we got there and got inside. She was working the register, and I was hiding behind some bookshelves, peering over, trying to wait until there was no one at the register, to walk up to her and purchase my Mother's Day card.
She caught me peering from the book collection.
I got in line and after coming around the counter for a hug, she rang up my Mother's Day card, and we chatted a little.
After that, I went back to the car, and Bob went in and they chatted for a bit, including planning a visit to see their brother Billy tomorrow.
From there, we stopped by Target to get a few incidentals, and then by the liquor store. I bought a bottle of Crown Royal to take to Joe and Robin's on Sunday—partly to replace their bottle that I drained, but more so as a host gift for the pizzas on the grill they're going to make for us.
---
We stopped back at Barbara and Charley's, where Aunt Barbara graciously agreed to babysit Frances and Vincent while we met the Warners and Coffmans for dinner at
Moonraker
.
Our party consisted of Michelle, Randy, Zach, Junsu, Mary Lou, Micheal, Bob, and myself. Bob and I remembered Michael Casterline's recommendation, during our stay with the Casterlines in Asheville, NC on the way up, to have an olive burger while we were in Michigan, and since they were on the menu, we each got one, and both loved it.
Olive burger
It was a lovely dinner and great to meet Michelle, Mary Lou, and her beau Micheal, and good to see Randy, Zach, and Junsu again, whom I'd met before during one (or more) of their trips through Raleigh on their way to Wake Forest, NC to visit Randy's brother, Tim, and family.
---
Back at the house, we were welcomed home by Frances and Vincent, and we had dessert, sharing our caramel popcorn from Turkeyville with Barbara, chatting for a little while before hitting the sack.
~Monday~
We were up fairly early this morning, and we hung out on the screened-in porch until it was time to leave the house for another showing.
Barbara is considering us their good luck charm, as they'd had a little dry spell of showings until we came into town.
Frances, Vincent, and Chucky hung out with us, too, of course!
Frances lounging
Vincent wondering if it's time to go yet
Chucky generously sharing his territory
We left the house at 10:00, in plenty of time for the 10:30 house showing by their realtor.
We had breakfast at a nearby Panera Bread, and since the outdoor seating wasn't yet available, Bob and I just sat in the car with Frances and Vincent and enjoyed our breakfast.
You know you want to see what we had:
| John's breakfast | Bob's breakfast |
| --- | --- |
| | |
| | |
I also had a sesame seed bagel with some plain cream cheese, and we shared a large cup of coffee and some apple juice.
---
We rode around downtown Battle Creek, and Bob showed me many sights of his growing up, many of which were now empty lots.
I snapped this picture of the Kellogg Arena as we passed it, since it was the first thing I'd seen with the word "Kellogg" on it.
The Kellogg Arena
I saw the lot where Bob's daddy's car wash used to be, which is actually in the opening sequence of the TV series
Battle Creek
, of which we took a screen capture:
Capital Auto Wash, Bob's dad's car wash from the opening sequence of
Battle Creek, the TV show
I also saw the lot on Frelinghuysen Street, where the McVeighs lived before they moved to their iconic Wattles Road house.
And then some of the schools Bob attended, including Fremont Elementary, where he went to kindergarten, and Kellogg Community College where he earned his associate's degree, before going on to get his BA and then LPN.
We also visited Bob's boyhood Catholic school,
St. Philips
, which I've heard so much about from Bob over the years. Some of the buildings were gone, but the grotto was there, which I'd seen in his school reunion pictures, and we took a few shots on it, only one irreverant.
John on the grotto steps
Bob and Mary
John wearing a little tiara he found on the ledge by the statue
---
We spent a half-hour or so at
Monument Park
, specifically at the
Sojourner Truth Monument
. It was a pretty weather day, and we took advantage of it by spending a little time outside.
John, Frances, and Vincent with Sojourner Truth
Bob, Frances, and Vincent with Sojourner Truth
The history of Sojourner Truth
---
Our final stop on my tour of Battle Creek for the day was at the
Oak Hill Cemetery
, as I wanted to visit the gravesite of the patriarch and matriarch of the McVeigh family.
We stopped at the gatehouse to get Bill and Ruth's address, and on the way to their grave, we came across another family name that I recognized, the Coffmans.
Bob's sister and her husband's pre-purchased gravesite
close to that of Ruth and Bill McVeigh
Bob, Frances, and Vincent at Ruth and Bill's place
At Bill and Ruth's grave, I said to them, "If it's okay with you if I ask Bobby to marry me one day, just don't say anything."
We're good to go.
Sojourner is everywhere we are today
---
On our way home, we stopped at Papa John's and bought a pizza for lunch, which we shared with Barbara when we got home, since she came home for her lunch hour.
Later in the afternoon, Bob was in touch with his brother Joe, who said he'd be home at about 5:00, so we headed over to visit at shortly before 5:00.
It was an absolute pleasure meeting and enjoying drinks with Joe and Robin in their backyard, where their delightful Gracie graciously welcomed Frances and Vincent, and where I finished up both their Crown Royal and Jim Beam bottles, neither of which—in my defense—were anywhere near full. :-)
After enjoying the conversation and company for a little while, we decided to order take-out Chinese, which we also enjoyed sitting out back eating. I had General Tso Chicken, Robin had Bourbon Chicken, and Joe and Bob had
Shrimp Mei Fun
.
Before leaving, Robin gave Bob a couple of large garden pots, but not too large to fit into our already snugly-stuffed trunk. :-)
~Sunday~
We got up at around 7:30.
Bob took Frances and Vincent for a walk, and then he got some warm free coffee for us from the lobby.
After a while, he walked over to Bob Evans and got us sausage, egg, and cheese biscuits, some apple juice, and a cup of coffee, which he brought back to the room.
We both shaved before packing the car up and getting back on the road.
Frances and Vincent worshiping the door Bob walked through
to pack the car
---
We rode for about an hour to
Florence, KY
, where we met Bob's brother, Charley, at the Panera Bread near the Florence Mall and sat outside for lunch, so Frances and Vincent could join us. Bob and Charley had the half-sandwich with chips, and I had the Asian Sesame Salad.
Several people said hello to Frances and Vincent as they walked by, or sat nearby, and I enjoyed watching Bob and Charley interact and catch up.
---
We left there at about 2:00, and shortly thereafter, we passed through Cincinnati, where Bob caught these pictures:
Downtown Cincinnati


Going through the downtown area, we were struck by this hotel, which reminded us of the Holiday Inn Downtown Raleigh.

Radisson Hotel Riverfront Cincinnati

---
We stopped at a rest area past Cincinnati and before entering into Michigan.
Bob, Frances, and Vincent in Ohio
John, Frances, and Vincent in Ohio
---
At one point, I started getting a little drowsy, and we played
Catch Phrase
with our homemade categories and words/phrases. Bob's are lost, because he wrote them on paper. I was able to capture mine since I'd stored mine in a Google doc.
Dogs

It's a dog's life
Dudley and Leon
Hair of the Dog
It's raining cats and dogs
Tethering
Pupperoni
Dog tired!
Water bowl
Doggone it!
Let sleeping dogs lie



Raleigh restaurants

The Station
Rey's
Peace China
Donato's
The Borough
The Second Empire
518 West
Tyler's Tap Room
Snoopy's
Brio



The Borough

Half-price apps
Arthur
Kelly
How Do You Q?
Fried green beans
Getting your hand stamped
Liz
Fifteen
You look fine as hell, boo!
The Dawson



Flex

Flexing your muscles
Candy urinal
Go-go dancers
Bear night
Shirtless drink free
The Roast Grill
Swill
Trailer park prize night
Loading zone
Charging station



Places

Oh, the places you'll go!
Epcot
Dollywood
Over the rainbow
Paradise
Bridge over troubled water
Korner Kafe (Rex hospital)
Historic neighborhoods
Lexington, KY
The right palm or hand (Michigan)



Names of playlists Bob has made for me

Rain
More rain
Still raining
Colors
Motown
Sweet dreams
Go, Winnebego, Go!
Zzzzzzzz
Upbeat Barbra
Jesus music



Food

The Sputnik
Spam salad
Apple-of-your-eye cheescake
All-you-can-eat buffet
Cornish hens
Chowder bowls
Cocktail wieners
Key lime pie
Vichyssoise
Dum-Dums



Health and beauty aid products

Spray gel
Shampoo & conditioner
Head & Shoulders
A Touch of Gray
Vaseline Intensive Care
Chapstick
Ricola cough drops
Irish Spring soap
Claritin
Sonicare electric toothbrush



Facebook

Like
Haiku Ninja group
Most recent
Timeline
Comment
Friends
Check in
Events
Scrabble
Relationship status



Our mutual friends on Facebook

Greg Anderson
Leon Carl Green
Glenn Hunt
Laurel Gallion
Mary McVeigh Nowlin
Andrew Warren
Patti Boyle
Michelle McKinney
Jen Riehle
Susan Elliot
---
We arrived in Battle Creek at just after 8:00, after enduring a detour on 127N.
We stopped at
Pursley's
(a.k.a. "Lee's of Battle Creek"), which wasn't far from Charley and Barbara's house.
All I wanted was some seltzer water, but I encountered a gentleman whom I think was the owner of the place. OMG, what an absolute whacko.
He didn't have seltzer water or club soda, and led me to the tonic water, which I didn't really want, but took just because I wanted to get away from him.
At the register he talked for at least five minutes, of which I understood no more than 10% of what he was saying. Unfortunately, he kept asking me questions and waiting for an answer, and "yes" and "no" wasn't always successful.
At one point he asked me, "Where is the ground?" And at another time, "Where is the sky?" Then he yammered for some more minutes, and finally asked, "Where are you
right
now?"
Before I could answer, he said, "Wait! Wait" and he reached over and showed me the page of a newspaper that was completely in Chinese, except for the name and address of his store in the bottom right corner of the page. I just nodded.
Then, he picked up a sheet of paper that consisted of about 20 sentences, all one line long each, and he pointed to the one in the very middle of the page, and said, "See? Answer here." And I read the sentence, which said something to the effect of, "Where you are is right here and right now and you are standing in front of the register." As I read it, he pointed to the edge of the counter where I stood.
Queue up the Twilight Zone music.
During all this nonsense, he was trying to ring up one my item, which came to $5.79. He kept pushing the register keys, clearing them, pressing them again, totally distracted by his talking, and when it was all said and done, he had rung up $579.
Get me out of here!
A guy came in after me and after getting a six pack of beer, he got in line behind me and caught the end of all it. I looked at him, and we both started laughing. He said, indicating the cashier, "He cracks me up every time I come in here."
My thought was, "I'm quite sure if I lived here, I would
never
come in this place again."
---
We arrived at Charley and Barbara's, and she (and their dog, Chucky) showed us around the house and to our room in the basement. Their house was for sale, and she let us know that there would be a showing tomorrow morning at 10:30, so we planned to be out of the house by 10:00.
Once we unpacked the car, we rode over to a grocery store, where we bought a few supplies, including a large submarine sandwich to split for dinner.
Bob spent about an hour upstairs with Barbara and Chucky, and I spent the time in the basement with Frances and Vincent catching up on Facebook, my haikus, my index card daily entry, my Scrabble moves, and making trip notes to help write my blog entries after the trip.
~Saturday~
We were up at a decent hour, and Michael Casterline made us fried egg sandwiches that were out of this world!
Then, Frances and Vincent worshiped the door that Bob walked through to take a shower at the Casterline's house.
And then the front door later when he stepped outside to pack the car.
---
Today's trip was from Asheville, NC to Lexington, KY, with a possibility of making it in time for me to do a bourbon distillery tour at 3:00, but it wasn't a "must-do," so we didn't rush to make it happen.
I should have posted this in our
day one entry
, but this is the route we took:
For the record, we did have
back-up
navigation (a.k.a. Bob's
preferred
navigation) in case Google maps let us down:
---
After being on the road a while, we noticed some brown numbered signs on the side of the road that counted up from 1 to 10, and then back down from 10 to 1. Neither of us had any good guess about what they might mean so I asked Siri.
These signs are for gauging fog conditions. If you notice, there is a camera in the middle of these signs. There is some sort of formula for visibility that tells DOT how bad the fog is by looking at how many signs can be seen during fog or smog conditions.
Bob had burned a CD of a playlist he made with iTunes, for which I was to guess the theme of the songs. He predicted I would guess it by the fourth song, and that's exactly when I guessed it.
When the third song,
Sweet Sweet Smile
, was playing, I asked, "Is this The Carpenters?" And when he said yes, I thought back to the first two songs and wondered, "Were those duets, too?" He said they were, but that the next song wasn't by a duo, although the artist had "quite the pair."
When the next song,
Tie Our Love in a Double Knot
by Dolly Parton came on, I noticed that her name began with a D, after hearing the previous artists' name beginning with a C, and I guessed, "Are the songs in alphabetical order by artist???"
Ding! Ding! Ding!
The whole point of this game was to keep the driver (that would be me) awake, and it was a big success. For the rest of the CD, for which there were over 20 songs, I tried to guess the artist's name knowing what letter it should begin with.
Thanks, dear, for your time and energy in making the playlist,and for your boundless and impressive knowledge of—and enthusiasm for—music.
---
We stopped at the rest area just over the Tennessee/Kentucky line, where we had lunch of peanut butter and jelly sandwiches and chips on a picnic table.
John and "the kids" arrive in Kentucky
At practically every stop, we encountered dog lovers who asked about Frances and Vincent, and it wasn't uncommon to hear, "I do (or did) have a Cocker Spaniel," and at this stop a couple approached us with their two kids, Benjy and Charley, so that they could pet Frances and Vincent, while their parents showed us pictures on their phone of their Cocker Spaniels, Ruby and Bailey.
Awwww.
---
We arrived at our Motel 6 in Lexington, which was just adequate. A big factor in our decision to stay there, other than price, was that they were dog friendly, and so we settled in.
Frances and Vincent worshiping the hotel door Bob walked through
to unpack the car.
They had two levels of Internet access, for which you had to pay extra, and uncharacteristically of me to pay extra for
anything
, I did pay it, and I chose the $4.99 level over the $2.99 level, because it was advertised as "25x faster."
In retrospect, I can't even imagine what the slower speed access was like if it was indeed 25x slower than what we experienced. You also had to enter in a password to connect to it, and we had to enter it 600 times while we were there for one night.
Okay, slight hyperbole. 400 times.
One reason was that it seemed like it would only let two gadgets connect at a time, so between Bob's phone, my phone, and my laptop, one connection was always being dropped, which means we had to reconnect to it again, causing us to have to enter the password again.
Crazy.
---
We didn't get in in time to make the distillery tour, and I was a bit tired, so I napped for about 2 hours. Bob napped, too, but not nearly as long. He took Frances and Vincent for a walk.
When I woke up, I walked over to the nearby Arby's to grab us some dinner, and after posting this picture on Facebook, someone pointed out how even though some of the lights were out, the remaining lights still successfully intimated the name of the place.
We tried to watch a little TV, but with 4 of the 10 or so channels being variations of ESPN channels, there wasn't much of interest to us. We watched a little of Shark Tank and were amused by the lady pitching the Loofah soap.
---
Tomorrow, we'll drive to Battle Creek to complete this part of our trip, and it will include a stop in Florence, KY to have lunch with Bob's brother, Charley.
~Friday~
Bob, me, Frances, and Vincent began our 11-day vacation today, departing Raleigh at around noon.
The main purpose of this trip is to meet as many of Bob's Michigan relatives as possible and to see as many sights as possible—some of which are still standing, many of which are not—of Bob's childhood in Battle Creek.
I've heard so much about his family—his parents, Ruth and Bill, and the 14 McVeigh siblings—over the 5 years I've known Bob, and I'm really looking forward to meeting as many as I can.
Here are Frances and Vincent worshiping the door Bob just walked through in his garage, stepping outside to put some stuff in the car.
Frances and Vincent worshiping the door Bob walks through
Our first day was a comfortable 4-hour drive to Asheville, NC. We made one stop along the way, at what I believe was the very same Sheetz gas station that my friend Joe and I stopped at last week on our return from Asheville.
We used the restroom (Bob and John inside, Frances and Vincent outside), and we (Bob and John) had peanut butter and jelly sandwiches with chips, made on—and eaten off—the hood of my car.
Back on the road again, Frances and Vincent quickly assumed their "prone position," being the great travelers that they are.
Pillow talk with Frances
Today's her 15th birthday!
Peek-a-boo with Vincent
Today's his 10th birthday!
In Asheville, we were welcomed by the Casterline family—Bob's nephew, Michael, his wife Heather, and their two children Nora and Quillan, with whom we had a
most
delightful evening.
We had drinks and munchies on the deck. Michael had done some sleuth work on Facebook to learn that I liked Maker's Mark, and he'd bought some just for me.
So very thoughtful.
We had a delicious dinner of a kale salad with mango and roasted pumpkin seeds (I believe they were), along with an entrée of shredded chicken and pulled pork topped with a nice chickpeas and spicy salsa sauce, cabbage, radishes, and avocado. Dessert consisted of a choice of chocolate or mango ice cream. Bob chose chocolate, and I had the mango.
I'm sure I'm not totally accurate on all that, but suffice it to say, it was delicious.
We had good conversation during the course of the entire late afternoon and evening, including various topics such as:


Quillan's experience making fishing nets in Alaska, and his upcoming trip back to do commercial deep sea fishing this summer


Quillan's traveling and living in Guatemala


Nora's current course of study and her boyfriend's interest in computer science


The Longform: A Smart Reader app


Bob's discussion with Nora and Quillan about nursing, the different ICUs that there are, and a friend of Nora's who wants to work in trauma


Quillan's drumming and bands


The Asheville culture


Homelessness in Asheville


The marriage equality case before the Supreme Court


Michael's clientele and his cases


The storing, sharing, and distribution of law information


Interesting characters in the workplace


Their neighborhood—rich people and expensive houses up the hill


The list of the many things they've done to their house, as told to Bob by Michael
Bob was surprised by how much Michael remembered about growing up in Battle Creek, about their Wattles Road house, and he enjoyed learning a little bit about Heather's family.
What stood out to both of us was what a
nice
family the Casterlines are, and how conversation with them was easy—engaged, intelligent, and not feeling like any subject needed to be avoided.
Thanks, Casterlines, for having us as guests, and for your
most
gracious hospitality!
Nora, Frances, Quillan, and Vincent
~Wednesday~
Inspired by
a similar exercise
, Bob recently took 13 pictures during one of his daily walks. He then asked me to co-author this blog entry by devising a haiku for each one of them.
My haiku are "out of context," since I wasn't on the walk with him. He had the advantage (or not) of actually being there.
Bob's haiku:
Do I come in here
Do you really want me here
I think I will pass
John's haiku:
Come on in, but don't
You are welcome here, not there
One billion confused
---
Bob's haiku:
Well, good morning you!
Will you join me for breakfast?
Thanks for hopping by
John's haiku:
What's under that lid
Don't leap to a conclusion
Frog legs for dinner?
---
Bob's haiku:
Canopy of white
Happens every spring 'round here
Dogwood cathedral
John's haiku:
Dogwoods line the street
Second Thursday of the month
Time to recycle
---
Bob's haiku:
Sidewalk's still open
Pushing dirt around for months
Orange vests each morn
John's haiku:
Don't really want to
Drive my car on the sidewalk
But I must detour
---
Bob's haiku:
Cement birds out back
No clucks, no crowing, no eggs
Such a fowl presence
John's haiku:
Pet cemetery
Chicken headstones mark their graves
Formerly roadkill
---
Bob's haiku:
Green worm for dinner
Wish ants would eat all of them
Bugged by nasty pests
John's haiku:
Ants on bacon strips
Just before the deep frying
Next year's state fair's fare
---
Bob's haiku:
Twirling in the breeze
Don't need spring flowers up here
Pinwheels in the yard
John's haiku:
Fanciful yard garb
Pinwheel windmills in the breeze
Brighten up the bed
---
Bob's haiku:
Desolate, empty
Slated to be all torn down
Changes are coming
John's haiku:
There beside the street
Row houses all in a row
Hence the term for them
---
Bob's haiku:
Could not choose color
So let's use them all, he said
Birth of a plaid house
John's haiku:
Abode and flora
A house that's plaid, not sad, and
A truncated trunk
---
Bob's haiku:
Drag queen garden art?
Oriental yard goddess?
Who needs a scarecrow?
John's haiku:
I like her chef's hat
That turkey leg feeds seven
Now just need a grill
---
Bob's haiku:
Here is the steeple
Where have all the people gone
Empty on weekdays
John's haiku:
Steeple in the sky
Or is it a great big plus
Religion or math
---
Bob's haiku:
Two motorcycles
Ready for an adventure
Never been on one
John's haiku:
Hell's Angels live here
Soon to be two-wheelin' it
Where are their helmets
---
Bob's haiku:
x means replacement
Daily checking my forehead
Look for orange paint
John's haiku:
Missing "rays" or "files"
Hyphens and some suffixes
Added to make words
~Monday~
Today is six months to the day of my retirement on October 13, 2014, and I've taken this opportunity to assess myself on how I'm adjusting to it.
Overall, I must say that 9 out of 10 voices in my head agreed that I am "
consistently exceeding requirements
," to put it in corporate assessment jargon.
Before I get to a line-by-line report on how I'm faring specifically against my "
retirement to-do list
," here are some general observations:


The thing I love the absolute most is being able to, when I go to bed—usually between midnight and 2AM—look at the time on my clock, add 8 hours to it, and set my alarm for that.


The biggest surprise, I guess, was finding out that just because you have time to do something, it doesn't mean you're going to want to do it. Specifically, this applies to cleaning house and other things that I just don't enjoy doing. It's easy to convince yourself when you're working that you're just putting those things off because you're too busy.


Another thing that I didn't anticipate was Amazon Prime going on sale, and my signing up for it for $72 for the year. Those of you who know me, know I'm the type that likes to get my money's worth from things, so I've been going gangbusters watching movies and TV shows with my subscription. Those include:


I was always open to doing some freelance editing in retirement, but I had hoped to not do any from October 14 until the first of the (2015) year. However, the department I left needed some help until they could hire 3 or 4 new people to replace me and a couple of other people who left around the same time I did, so after a two-week break, I started freelancing on Tuesdays and Thursdays. I didn't work for most of the month of December, though. Some observations about freelancing:



For the most part, the agreement is to do strictly editing (i.e., no meetings or projects), and all from home, both of which make a surprisingly incredible difference.


Having 4-day weekends all the time, with a day off between the 2 days I freelance, is amazing. Having every Monday of my life off is the absolute best.


The weekly paycheck is sweet gravy atop of my twice-monthly retirement checks.
And here's my appraisal of the items in my
anticipatory blog entry
that I posted a month or so before retiring:


Emotional/intellectual activity



Continue to meet monthly with my Mostly Social Book Club


Continue to meet monthly with my Salon group


Continue my volunteer work as a member of the board of directors of Manbites Dog Theater

I am still on the board, and I have attended every monthly meeting that has been called since I retired.



Continue my volunteer work as a member of the board of directors of my townhouse's homeowners' association

I am still on the board, and I have attended every monthly meeting that has been called since I retired.



Continue my weekly line-dancing and two-stepping night (for as long as my knees will permit)

Our dance nights have been reduced from every Wednesday night to the 1st and 3rd Wednesdays of the month, and I'm still dancing.



Participate in NaNoWriMo (National Novel Writing Month, which is the month of November)

I did not do this. Even though I had more than one reminder on my Google calendar about it, I didn't realize until it was the 3rd of the month that I'd missed the start. I'm sliding this out to next November.



Write for at least two hours a day

I would say that, on average, I have met this goal. It's not two hours every day, but averaging it out across many days it's at least two hours. I'm satisfied with the time I've spent writing.

I started a "Great Retirement Coffee Shop Tour," which consisted of visiting various coffee shops (new ones, whenever possible) around the city and spending a few hours there doing a combination of drinking coffee, people-watching, and writing. Here is a sampling of some of the ones I've visited, along with some observations about some of them:

Monday, 03/23/15, Café de los Muertos, Hargett Street, Raleigh
Monday, 02/02/15, LucetteGrace, 235 S Salisbury St
Tuesday, December 23, 2014, Third Place, 5 Points
Monday, 01/12/15, Benelux, Cameron Village, Raleigh (Steve & Kita, formerly of Mordecai)
About 15 tables inside. can get full. eye candy. WiFi pw = beneluxcoffee
Tuesday, 12/16/14, Night Kitchen Bakehouse & Cafe, Seaboard Station (10 W. Franklin St.)
I was not impressed with this place. My coffee could have been hotter. I asked for a medium, but got a small. And it was in a to-go cup even though I was eating in. I thought they were going to warm my bagel, because they "took it to the back," but when I picked it up to eat, it was cold. The butter they gave me to put on myself was hard as a rock, and I didn't get a knife or a napkin in my to-go bag. All of the other people eating in got mugs and baskets for their food. Guest wi-fi won't be available until some time in January. Fortunately I was able to squat on a nearby business's guest wi-fi. The young lady serving me was not as friendly or talkative as I would have expected in a place that was just open, trying to get established, and presumably understands the importance of repeat customers to the success of a business. I'm predicting a "short run" with this place, unless my encounter was unique. I certainly like Brew, just around the corner, much better. The only thing that this place has over that one is the parking.
Wednesday, 11/19/14, Upper Crust Pie & Bakery, Lafayette Village, Raleigh
Wednesday, 11/19/14, Jubala Village Coffee, Lafayette Village, Raleigh
Friday, 11/17/14, Panera Bread, Crossroads Plaza, Cary
Wednesday, 11/05/14, Sola Coffee Cafe, Lead Mine Road, Raleigh
90 minutes of WiFi with purchase, Counter Culture coffee, Toast bar, great food, small beer selection, draws a churchy crowd, occasionally hosts musicians.
Monday, 11/03/14, The Morning Times, Downtown, Raleigh
Sunday, 11/02/14, Bruegger's Bagels, Mission Valley, Raleigh
Wednesday, 10/29/14, Brew, Seaboard Station, Raleigh



Create greetings cards

I have not done this, but I think about it a lot, and I still want to do it!



Write an entry for McSweeney's and submit it

I have not done this; in fact, I'd forgotten about it until doing this update. I still want to do it.



Create a personal YouTube video pun channel and create more video puns, like this one

I did a couple of these, and I enjoyed it. It's a little more work than I want it to be, so I want to work on my production process, and pick it back up.

I do have several ideas for them saved in a Google doc, so it's just a matter of producing them.



Create a DIY: calendar journal on 3x5 index cards

I am doing a variation on this.

I bought the 3x5 cards, but had trouble fitting them in an existing index card holder, and didn't want to spend a lot of money on a new one, couldn't find one at a thrift shop, and just decided that I wasn't going to let the 3x5 card aspect of this idea bog me down.

To that end, I have an entry for every day since my birthday and retirement day (October 13), but I'm doing it in a Google doc instead of on 3x5 cards.



Socialize on Facebook

If you've gotten to this blog entry update from Facebook, then you know that I am excelling at this one!



Do crossword puzzles

Bob bought me a 10-minute crossword puzzle-a-day 2015 calendar, and I'm doing them religiously. So far, however, I've not been able to do one in 10 minutes or fewer. I'd like to meet whomever decided on that time limit and ask them, "What were you thinking?"

I've fallen behind a couple of days now and then, but I've always caught up, and I'm currently caught up.



Participate in Lumosity's Human Cognition Project for at least 15 minutes a day

The one thing I wanted to do on this site is work on my short-term memory.

I keep forgetting to do it.



Read lots of books (lying in my hammock on my deck, whenever the weather is agreeable)

With having more time, and with getting a Kindle from my parents as a retirement gift, I have really ramped up my reading.

Here are the books I've read since I've retired:



Spend more time with Bob and Frances and Vincent

I have so done this, and I so love it.

My favorite thing is sitting on Bob's screened-in porch during the day, alternately writing and watching his dedication to—and love of working in—his yard, and having Frances and Vincent nearby to love on.



Actually get 8 hours of sleep regularly

This might be my very favorite thing about retirement to-date.

It is such a gift to be able to get 8 hours sleep regularly.


Physical activity



Go to the gym (or do some other equivalent exercise) 1-1.5 hours 5-6 days a week (Quit laughing. I can dream!)

I'm happy to report that I have met this goal!

I currently weigh 20 pounds fewer than I did when I retired.



Maybe, slowly, start riding my bike again—in the fall, assuming it finally cools down

I have not done this, and I'm not sure I ever will, although I haven't totally ruled it out.

There are two things that are causing me to hesitate on this one—one probably not so valid and the other one valid:

I'm concerned about getting a flat tire while I'm out, even though I know how to change one, but even so, with Bob being retired, too, he could almost always be counted on to come rescue me if it happened, or I could just ride when I know he would be. Bottom line: This fear is lame at best and just an excuse at worst.

I've had two surgeries on my left knee, and bike-riding does aggravate it to some extent, which I know from doing the stationary bike at the gym.



Computer/online



Get one of my printers working


Restore original OS to old workstation or wipe it clean, and take it to the electronics recycle center


Dispose of my old Think Pad


Unpack the "My Documents" folder on my new workstation


Sync my iTunes account to the cloud

I'm not going to do this.



Configure my iPod to sync for only certain music


Scan in all my found writing


Go through online (and printed) pictures and organize them


Move all MDT agendas and minutes to Google drive


Update my identity inventory


Move my "professional portfolio" to my WordPress site
Complete the conversion of my personal website to WordPress


Pick an app as a feed reader and set up some feeds

I'm not going to do this.



Around the house



Cook more at home

This is definitely happening, and it's a significant contributing factor to my weight loss.



Go through 2 cassette tapes to see if there's anything to save from them


Go through 5 VHS tapes to see what I want to keep


Hang up my master's degree diploma

My friend Joe did this for me before I retired!



Organize all of my MBTI materials into one 3-ring binder


Paint my guest bedroom, and maybe my master bedroom

This probably won't get done unless someone voluteers to help me do it.



Replace quarter-rounds in my downstairs bathroom


Clean out and organize kitchen cabinets


Clean out and organize guest room closet


Clean out and organize master bedroom closet


Clean out and organize linen closet


Clean out and organize entrance hall closet


Clean out and organize filing cabinet


Clean out and organize storage shed



Travel



Considering a month-long RV trip around the U.S., visiting various people that Bob and I know

Bob and I "scoped" this project and it ended up "way out of scope" with a 6,000- to 7,000-mile trip.

We've decided to do one trip for now, and that'll be the first half of May, traveling up to Michigan for him to visit, and me to meet, several of his 13 siblings.



Salon LI Agenda & Responses
Sunday, April 12, 2015, 7:00 PM
Hibernian Restaurant



Identity show-and-tell. Bring your current (and any old, why not?) passports, employee IDs, driver licenses, and conference badges to share with all. (John)

We had a fantastic display of all of these things! We did take a photo of all of it, but we're not posting it online in the interest of erring on the side of caution with regards to identity theft. My stash consisted of:




12 conference badges




6 employee badges (IBM employee, IBM gym, Tivoli (after acquired by IBM), NC State, Red Hat as a contractor, and Red Hat as an employee)




1 student ID (NC State grad student)




8 NC driver's licenses (issue dates of: 1981, 1984, 1985, 1989, 1996, 1997, 2002, 2007)




3 passports (issue dates of: 1984, 1998, 2008)









The most unusual—in whatever way and by any measure—proposition you ever received. (Anna)

Many years ago, a Lesbian couple asked me if I would consider being a donor to father a child for them. It really knocked me for a loop, even though I'd already had a vasectomy by that time, and couldn't have done it if I'd've wanted to. That aside, it was an interesting emotional and intellectual exercise just thinking through how it might have all played out.






Given that we're all perfectionists to some extent (which may or may not be true), what "body-focused compulsive habit" do you have that might substantiate that you are? (From the first 1 min, 38 seconds of this audio clip, or this textual version if you prefer.) (John)


The audio version talked about "body-focused repetitive behaviors" (e.g., biting your nails, twisting your hair, and picking at your skin). A group of participants were exposed to situations of stress, relaxation, frustration and boredom, and it was the frustration and boredom situations that illicited those behaviors.


I'm someone who bounces his legs a lot, being most aware of it when other people sitting on the same bench—or connected chairs—give me the evil eye or outright slap my leg. I've also been very aware of it lately at the gym while doing the strength-training machines. This is interesting to think about for me, because I don't consider myself frustrated or bored when I'm doing that.






Man mistakenly included on bachelor party email thread told to come... Would you do this if it happened to you? If you're not sure, what criteria might you use to decide? Would your answer be different if it happened at a different time in your life? If so, how? (John)


I would go under certain conditions. I would like to see what the guys looked like. (i.e., Are they hot?) I would want to know where they stand on social issues. (i.e., Would they kill a homo among them?) I would want to see some kind of agenda for the evening, because if 90% of the time was going to be spent in a titty bar, I'd want to pass on that. All that working out, I'd have to find cheap accommodations (both travel and lodging), and it would be helpful if it were a place I'd like to visit even if it weren't for the occasion.







What you learn in your 40s. True? Merits other than this quip: "In my 20s someone told me that each person has not one but 30 soul mates walking the earth. ('Yes,' said a colleague, when I informed him of this, 'and I'm trying to sleep with all of them.')" (Kim)


Some of these things definitely rang true, although I can't say unequivocally that they all came to me in my 40s. Most salient:




"In fact, 'soul mate' isn't a pre-existing condition. It's an earned title. They're made over time." (i.e., A soul mate is not equivalent to "love at first sight."




"There will be unforgettable people with whom you have shared an excellent evening or a few days. Now they live in Hong Kong, and you will never see them again. That's just how life is."




"You know that 'nice' isn't a sufficient quality for friendship, but it's a necessary one."




"People's youthful quirks can harden into adult pathologies. What's adorable at 20 can be worrisome at 30 and dangerous at 40. Also, at 40, you see the outlines of what your peers will look like when they're 70."




"Just say 'no.' Never suggest lunch with people you don't want to have lunch with. They will be much less disappointed than you think.









Good grief. Your thoughts? Quote on Maya Angelou stamp isn't hers. (John)


Whatever happened to citations? Whatever happened to vetting? Was an editor involved? <SMH>